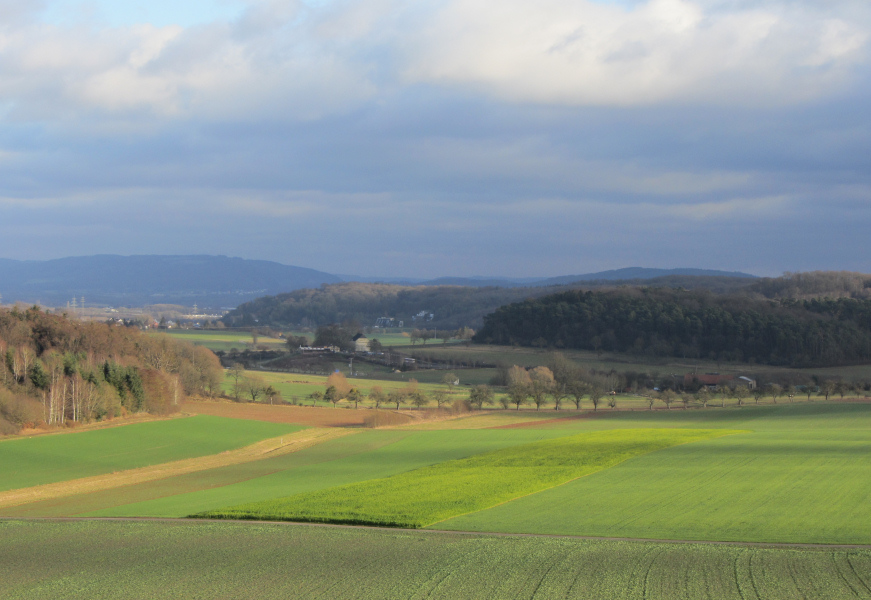 I've always loved the high rounded hills and wide valleys near Spangdahlem Air Base. They're colorful even in the middle of winter. This is the Eifel, a land of strong winds, big sky, and beautiful scenery. Thousands of years ago, the Eifel was the site of volcanic eruptions. Now round lakes nestle peacefully in the cones where lava once bubbled out.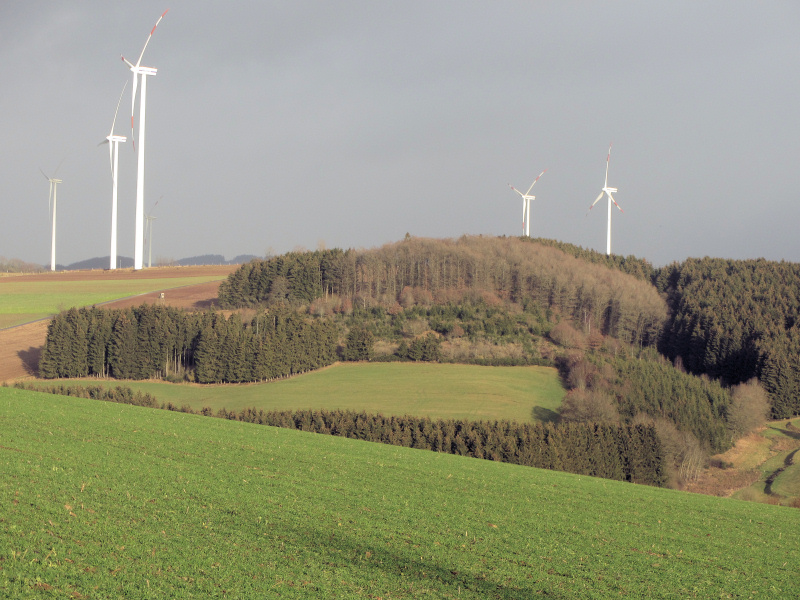 Here, gigantic windmills dwarf a forest of mature pine trees. Wind is an important component of Germany's renewable-energy plan. Renewable-energy sources already account for a solid twenty percent of Germany's total energy consumption. Wind contributes seven and a half percent. ("Crossing")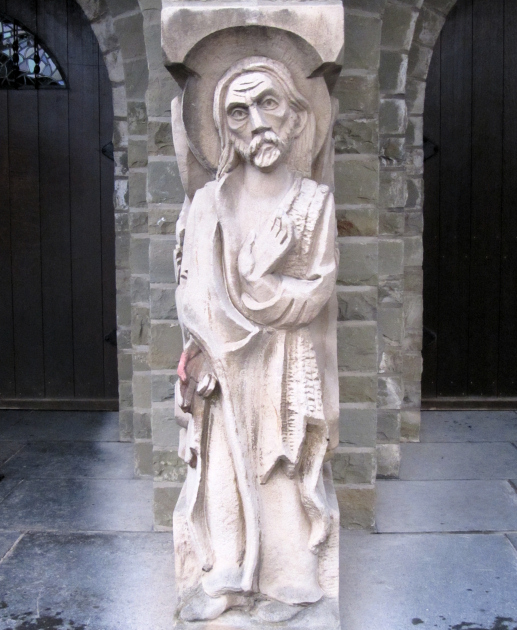 If this evangelist looks a bit grim, he's probably thinking about the history of his town: St. Vith, on the border between Germany and Belgium. This chic and friendly little town, just up the highway from Spangdahlem Air Base, changed nationalities three times in a hundred and twenty-five years, swapped among Luxembourg, Germany, and Belgium like a lucky penny. The Germans took it over in World War II. Then the Americans moved through. But we lost St. Vith during the Battle of the Bulge, and by the time we took it again thirty days later, there wasn't an "it" to take. The entire town had been destroyed. The only building that remained undamaged was an old medieval tower. Everything else was gone.
So tourists are cordially invited to visit the new St. Vith, and it's a very nice place to spend an afternoon. We can only hope that the pleasant little downtown, which particularly invites window shopping, will never again echo with gunfire and explosions. Maybe time and peace and rain will erase the creases in the evangelist's forehead, and after a few hundred years, he'll relax and begin to smile a little through his beard.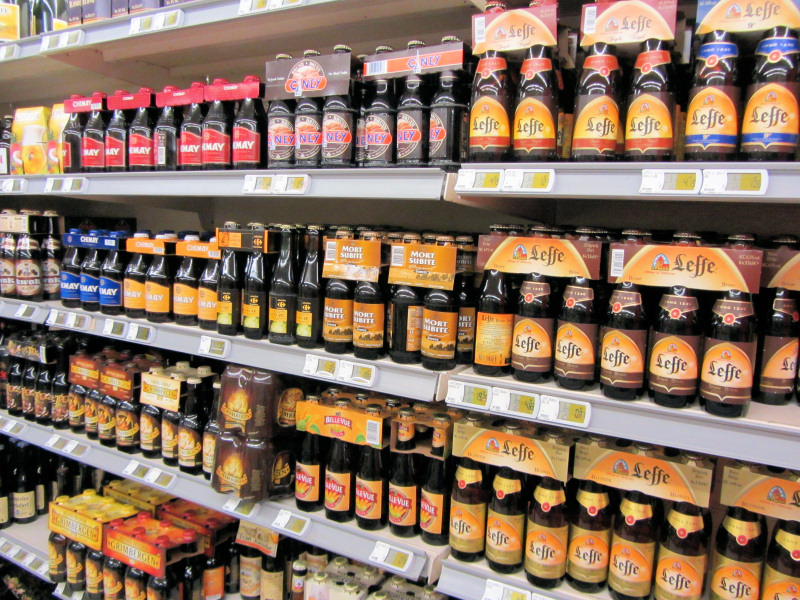 What does Belgium have that Germany doesn't have? Belgium has Belgian beer! According to Ratebeer.com, Belgium produces thirteen of the hundred best beers in the world, and twelve of the top hundred beers at BeerAdvocate.com. When you consider that little Belgium is only the size of Maryland, that's pretty remarkable.
"Crossing the 20 Percent Mark: Green Energy Use Jumps in Germany," Spiegel Online International. 08/30/2011. Retrieved from http://www.spiegel.de/international/0,1518,783314,00.html
Ratebeer.com. (n.d.) Best Brewers In The World 2011. Retrieved from http://www.ratebeer.com/RateBeerBest/bestbrewers_012011.asp
Beeradvocate.com. (n.d.) Top Beers–Popular. Retrieved from http://beeradvocate.com/lists/popular
To read my latest blog posts, please click on the "Green and Pleasant Land" logo at the top of this page. Photos taken in December, 2011, in the Eifel, Germany, and St. Vith, Belgium. Text and photos copyright Clare B. Dunkle.