The most beautiful sight in the Strasbourg Cathedral is a tall, slender pillar surrounded by graceful statues. It seems impossible that such a delicate structure could hold up a cathedral roof, but this pillar, called the Pillar of Angels or the Pillar of Judgment, has stood now for over 750 years. At the base are the four evangelists with their symbols below them. Next come four angels blowing their horns to call humanity out of their graves. Above them, just below the roof, are three more angels and Christ on His throne.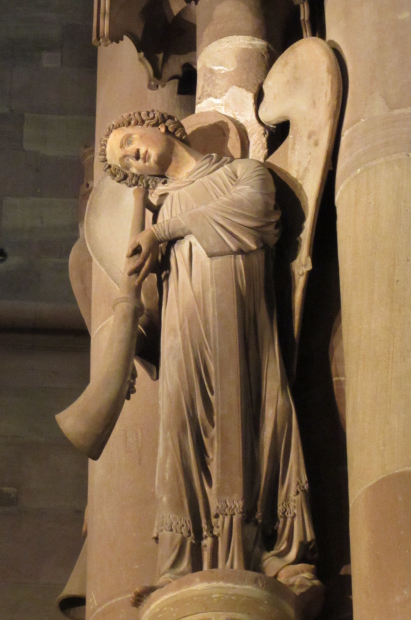 I've been looking at this angel all my life in books and on Christmas cards. It was quite a thrill to meet him in person.
The crowds of cathedral visitors aren't the only ones admiring this pillar. Up on a balcony nearby is a small stone figure with his eyes perpetually fixed on it. Tradition tells us he's been there almost as long as the pillar has. But who is he?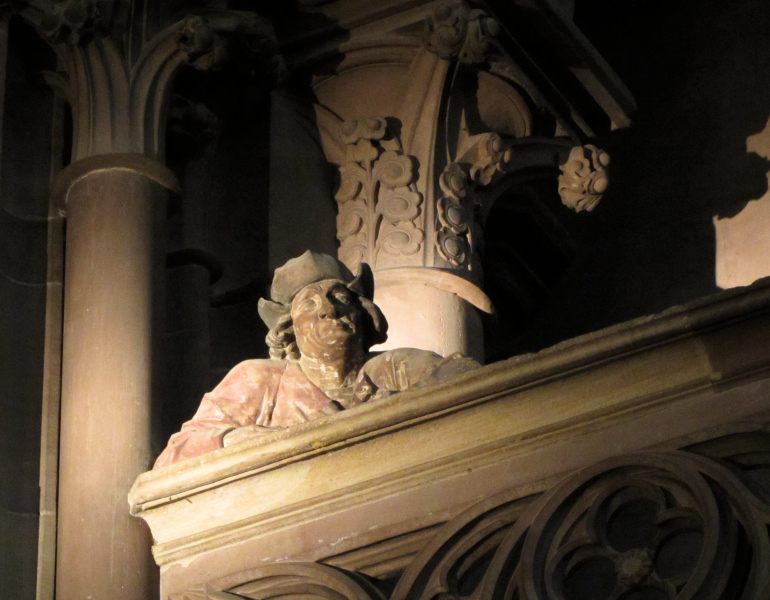 Some say he's the famous architect, Erwin von Steinbach, who oversaw cathedral construction for over forty critical years, from 1277 to 1318. The Pillar of Angels had been constructed before his day, so it would show a nice touch of humility to place his statue where he could admire the work of his predecessors. However, the statue doesn't match our preconceived ideas of the appearance of a master artist. This man looks coarse and unrefined. That's why a legend sprang up that the statue is that of a peasant who stood watching the pillar to see when the delicate structure would crumble. The sculptors put a stone copy of him where he could watch it stand through the centuries.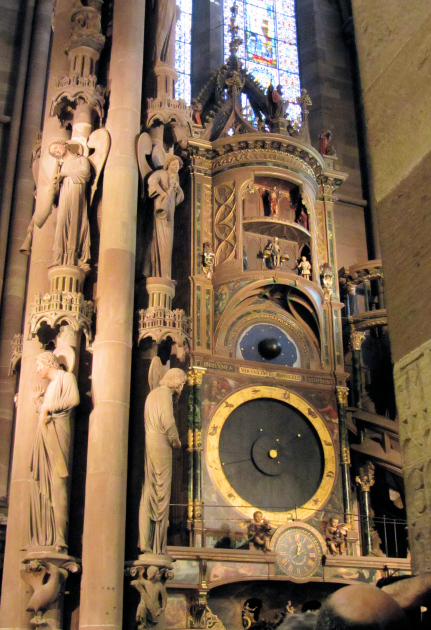 Next to the pillar is a beautiful clock first put into place in 1571. It stopped working in 1788, and in 1842, new works were put into its cabinet. In the photo above, St. Matthew appears to be fascinated by the clock, but St. John has his back to it–appropriate for the evangelist who wrote, "Time shall be no more."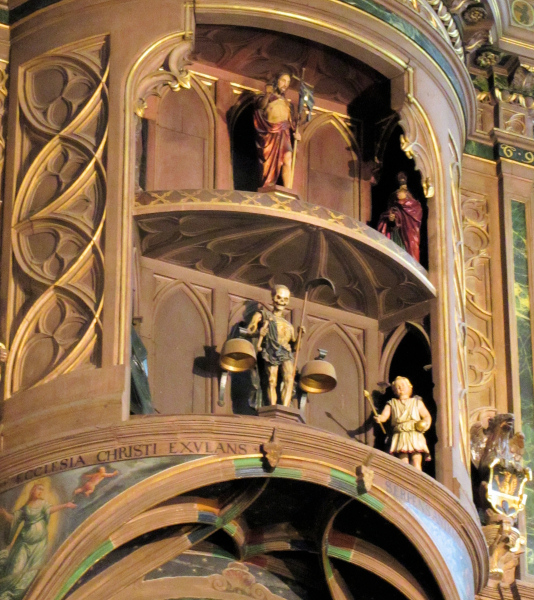 On the clock, Christ triumphs over Death, despite Death's tremendously creepy appearance.
To read my latest blog posts, please click on the "Green and Pleasant Land" logo at the top of this page. Photos taken in November, 2011, in Strasbourg, France. Text and photos copyright 2011 by Clare B. Dunkle.