Many of you know my daughter Elena as the protagonist of her memoir about adolescent anorexa nervosa, Elena Vanishing. And some of you write to me occasionally to ask how she's doing. I thought I'd bring you up to date.
Elena's recovery is almost a miracle. At death's door eight years ago, Elena is now a busy wife, hospice nurse, and mother of two. She is involved in the lives of everyone and everything around her, from her husband and children who come to her constantly with every sort of query or need and the dogs who follow her around all day long to the crows and robins who gripe at the window when their feeders are empty and the squirrel who swears sleepily at the dogs each morning from its cozy home in an old birdhouse. Elena is interested in all of them and constantly relates to us their ups and downs. Even the plants she has rescued one by one from the last-ditch sale table at the local supermarket and nursed back to health have their own tastes and habits. Many have names.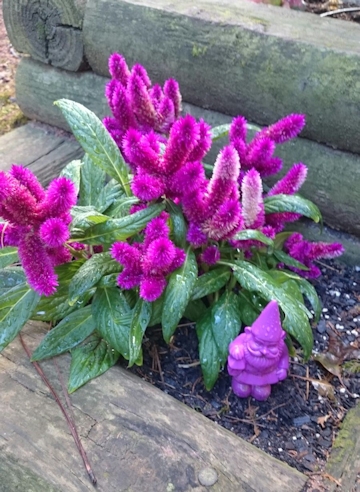 Of course, Elena has fish. Of course! It began with the betta she and her husband rescued from its prison in a filthy coffee cup at a relative's house. But we all knew it wouldn't stop there. And it hasn't.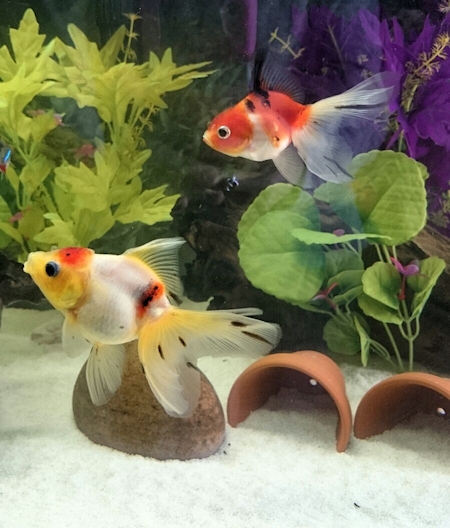 Elena has handsome purebreds in her tanks, but the oddballs are welcome, too. There's the gorgeous silver goldfish, pulled out of a tank of feeder fish as a gift from a store employee. And there are the crazy catfish dudes, four small dark spotted anomalies that showed up in a pet store's shipment of new cory cats. Purists would rush to destroy such unwelcome hybrids. Elena volunteered to take them home. We have no idea what their pedigree is, but the cories love them, and the pleco loves them too. They often join him in swimming lazily upside down.
(Update: the breeder later contacted the store and said that bag of fish had been sent by mistake. It was supposed to go to an expert. The breeder thinks the crazy catfish dudes are pictus catfish/cory cat hybrids and was sending them off to find out their pedigree. Elena says the breeder is welcome to contact her about them, but they're tremendous fun, and she has no intention of giving them up.)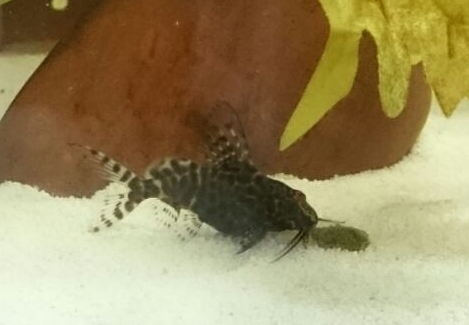 Elena's fish kingdom is constantly expanding. Her fish don't just eat, poop, and die sideways-drifting deaths like the fish of the rest of us do. No, in one of Elena's tanks, they find life good. Pretty soon, the most unbreedable fish start digging nests and guarding eggs, and in weeks, improbably minuscule fry are darting about, doing their best to avoid the hungry grown-ups. Elena doesn't interfere in this process: "I just let nature take its course." This means that only the occasional youngster makes it. Elena celebrates life, but as a hospice nurse, she celebrates life in its full circle.
The circle of life is going on right now in one of Elena's "empty" tanks. The fish from that tank moved up to a larger tank, and Elena threw some ghost shrimp into the old tank to clean it up. The tiniest feeder guppy fry imaginable made it home with the ghost shrimp and has since tripled in size. Now the shrimp are "laying" eggs—which isn't what shrimp actually do. Actually, they fling their hatching eggs out onto the current to struggle through infancy as best they can. A few tiny clear shrimp babies are now doing just that, looking very much like little exclamation marks with eyes. Meanwhile, the other shrimp are living out their tribal existence, which seems to involve much more slapping than I would have expected.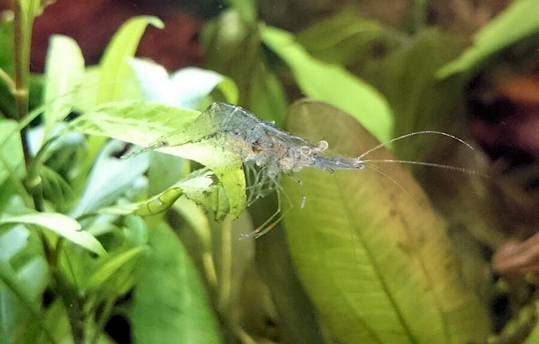 Elena is delighted, of course. She keeps us all updated constantly on how the baby guppy and baby shrimp are doing. So far, they're surviving quite well.
"But what will you do with a hundred ghost shrimp?" I wrote her, dismayed.
"Nurture them!" she wrote back. And at the end of the message, she added the "hug" emoji, a smiling face and open arms.
That fits. Elena welcomes everything with open arms. That's how she welcomes life itself.
Text copyright 2017 by Clare B. Dunkle. Photos copyright 2017 by Elena Dunkle. To read my latest blog posts, please click on the "Green and Pleasant Land" logo at the top of this page.