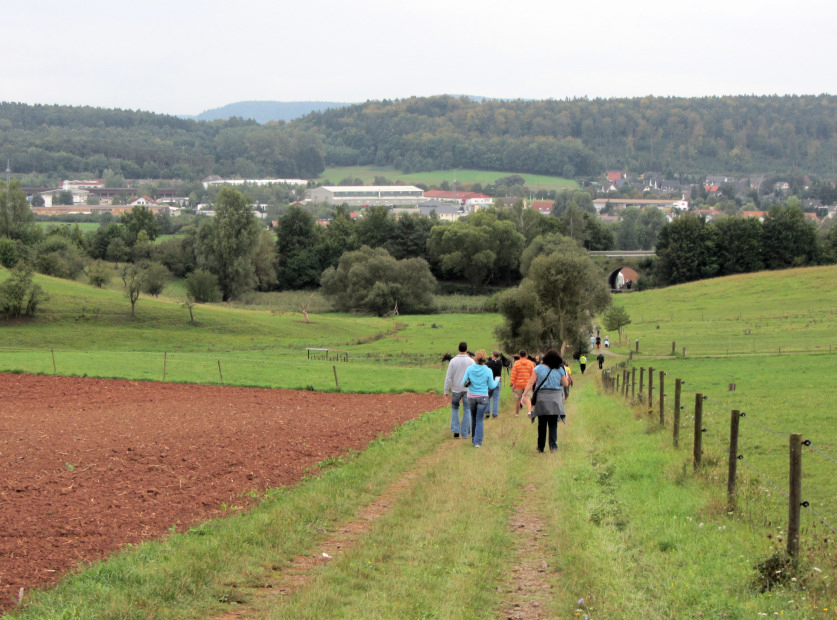 This Saturday and Sunday, Rodenbach and nearby Weilerbach teamed up to host their annual Kulinarische Wanderung–literally translated, a culinary stroll. This proved to be every bit as enjoyable as it sounds. The three-and-a-half-mile (six-kilometer) route passed nine different tents offering such delicacies as freshly smoked salmon and "rusty knights" (a kind of sweet French toast). And wine. Lots of wine! Participants could purchase a little glass on a rope to hang around their necks and sample wines along the route for a euro apiece.
Combining a stroll with a festival is natural to Germans, who turn out in great numbers every weekend all year round for organized walks of every description. Volunteers mark out a pretty walk and set up tents and Toi-Tois along the way, and everybody and his dachshund shows up to take in the fresh air and fun. We were walking with Rainer and Heidi on Saturday, and they must have met forty people they knew along the route.
Not everybody had to walk.
The scenery was peaceful, the food was great, and the wine was even better at the Kulinarische Wanderung Rodenbach. Thanks to the extensive network of paved paths dedicated exclusively to recreational sports over here, we didn't have to worry about dodging cars along the way like we would have back home in America. Strolling from tent to tent, we sampled saumagen burgers (no, it's not a real stomach!), flammkuchen, spice cake, merguez (a sausage made from lamb), and some local barbecue, which was quite a bit better than we expected it to be. We could have eaten twice as much and drunk about eight times as much, and then the Wanderung would have involved some real wandering. But we had tickets to the FCK football match. More on that tomorrow.
These two colorful characters from the Austrian Tyrol entertained visitors at the Engel Wellness Hotel tent.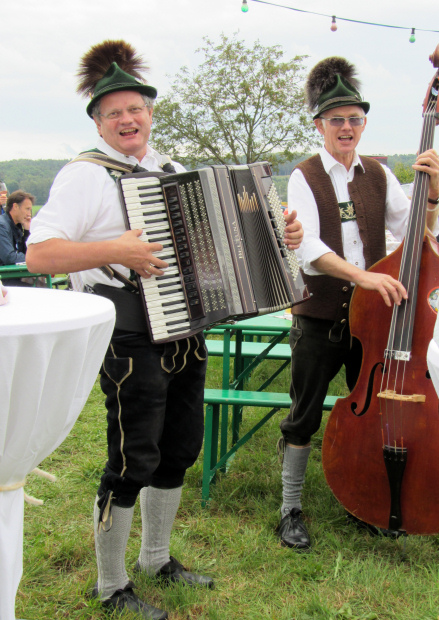 Photos taken in September, 2011, near Rodenbach, Germany. Text and photos copyright 2011 by Clare B. Dunkle.