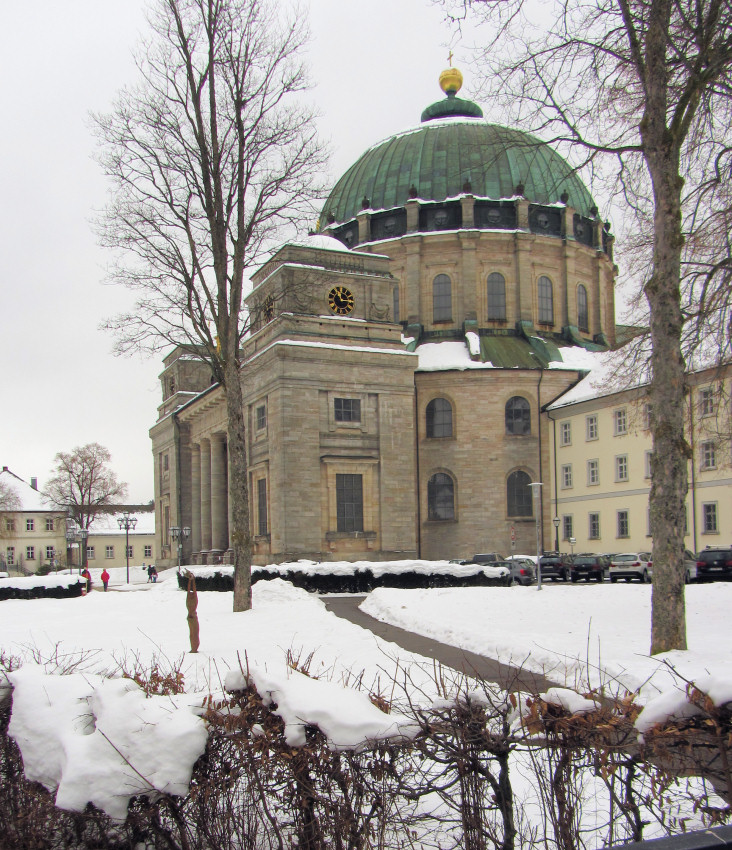 In February, Joe and I visited the small, elegant town of St. Blasien, in Germany's Schwarzwald, or Black Forest—an appropriate visit to make since February 3rd is St. Blaise's feast day. There we encountered an unusually magnificent gem of a church, the so-called Dom St. Blasius.
A community of Benedictine monks lived in this valley from before the eighth century, but it wasn't until 858 that they obtained a relic of St. Blaise and took his name for their church and abbey. The Benedictines remained in possession of this abbey for at least a thousand years, withstanding fire and plague, but in 1806, the abbey and lands became the property of the Grand Duke of Baden, and the abbot and his monks—as well as the bodies of fourteen Hapsburg nobles—had to move to Austria. The abbey and church didn't just fall into disrepair at this point; no, they were actively disrepaired, and a fire in 1874 destroyed the domed church. But in 1878, a kindlier Grand Duke promised restoration, and that restoration duly took place, although not until 1913 was the church fully rebuilt and reconsecrated. Now the magnificent Dom serves as the town's parish church, and the Jesuits run a private school in the nearby abbey buildings.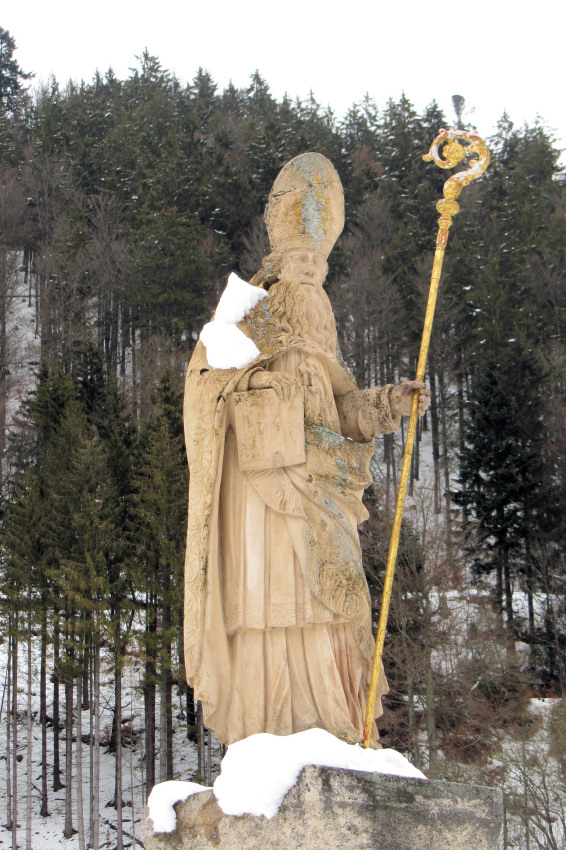 This statue of St. Blaise dates from 1714 and stands in front of the Dom. According to very old tradition, St. Blaise was an Armenian doctor who was so holy that the people proclaimed him bishop when their old bishop died. In spite of the fact that Constantine had issued an edict against the persecution of Christians, St. Blaise was martyred in 316, having first been beaten and then torn with iron combs to persuade him to renounce the faith. As he was being led away to execution, a mother brought him her child, choking on a fish bone. St. Blaise prayed for the child, who then recovered. This is why, every year, we Catholics line up on the Sunday following St. Blaise's feast day to receive the blessing of St. Blaise on our throats.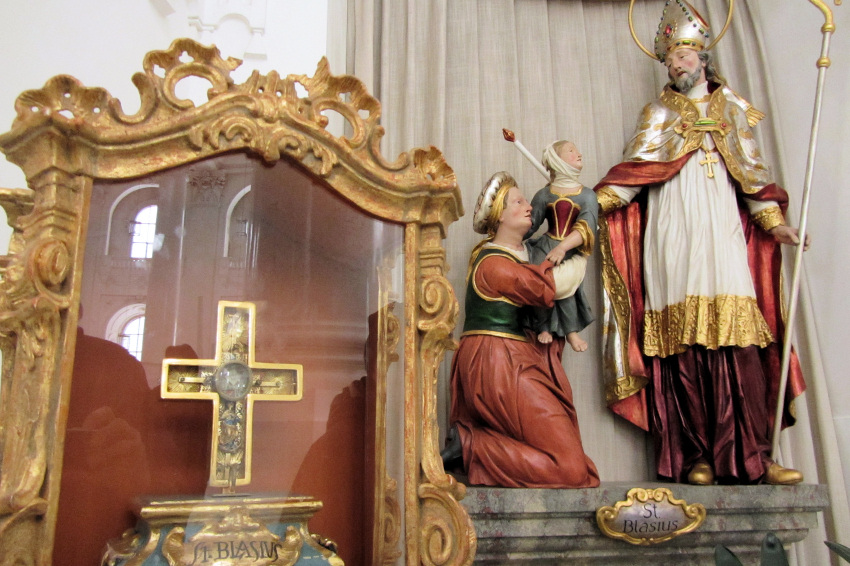 The word "Dom" seems particularly suited to this church. Its dome is actually larger than that of St. Paul's in London. But this is a dome without a church. Or, rather, the dome IS the church. There's a little bit of a front vestibule at one end, a thin choir with an organ at the other end, and everything else is pure dome.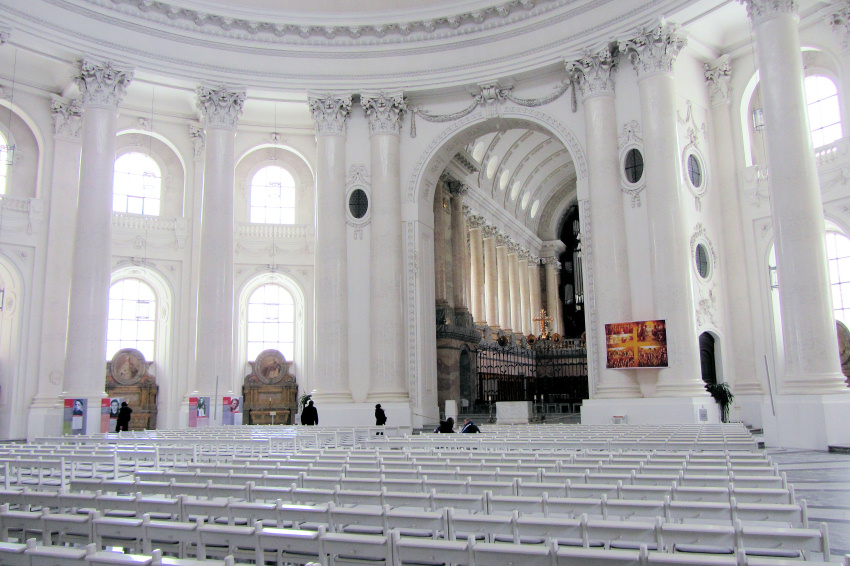 When I first saw this beautiful eccentricity, I concluded that some bishop had been to St. Peter's and said, "I've got to have one of those." In fact, I was seriously maligning a holy and enlightened man of God, Prince Abbot (Fürst­abt) Martin II Gerbert. When his church burned in 1768, this abbot considered what the most appropriate church would be for a community of monks, and to answer that question, he looked to the form of the Pantheon in Rome, the church dedicated to all saints, and perhaps also to the abbey chapter house. In an abbey's chapter house, the entire community meets at once, sitting around the walls of what is often a round room: a place in which the abbey rule is read and the monks discuss community matters. Thus, extrapolating these two ideas to a church, the abbot envisioned a round room ringed with altars and stained-glass windows of saints: a chapter house of heaven, one might say, in which monks could see themselves as members of a much larger and more illustrious community, with Christ Himself seated in the abbot's chair.
Sadly, the stained-glass windows of the saints are now gone, lost to fires, but eight altars remain to provide us a hint of that larger community. And the experience of standing inside this highly polished and astonishingly white Dom/dome does indeed transport us away from the little town surrounded by forest to a different plane of reality altogether.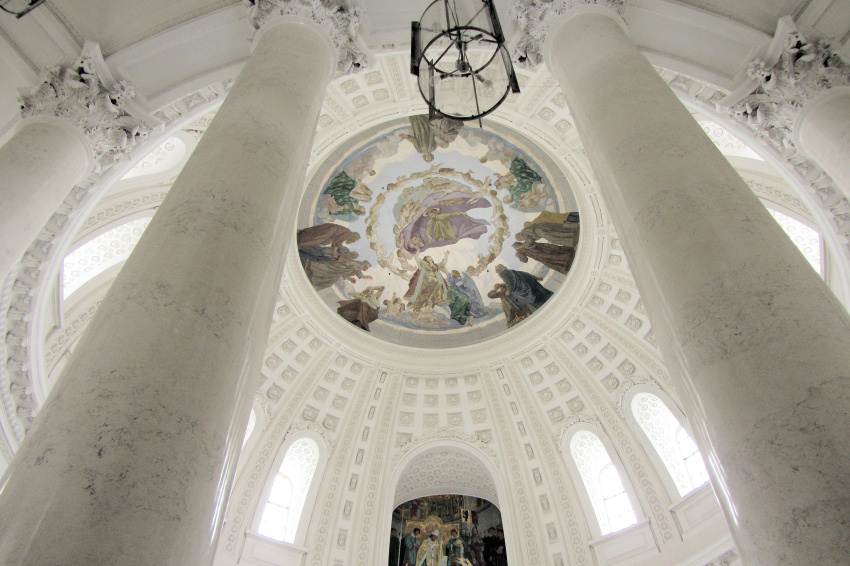 To read my latest blog posts, please click on the "Green and Pleasant Land" logo at the top of this page. Photos taken in February, 2013, in St. Blasien, Germany. Text and photos copyright 2013 by Clare B. Dunkle. No copying in whole or in part without the express written consent of the author.