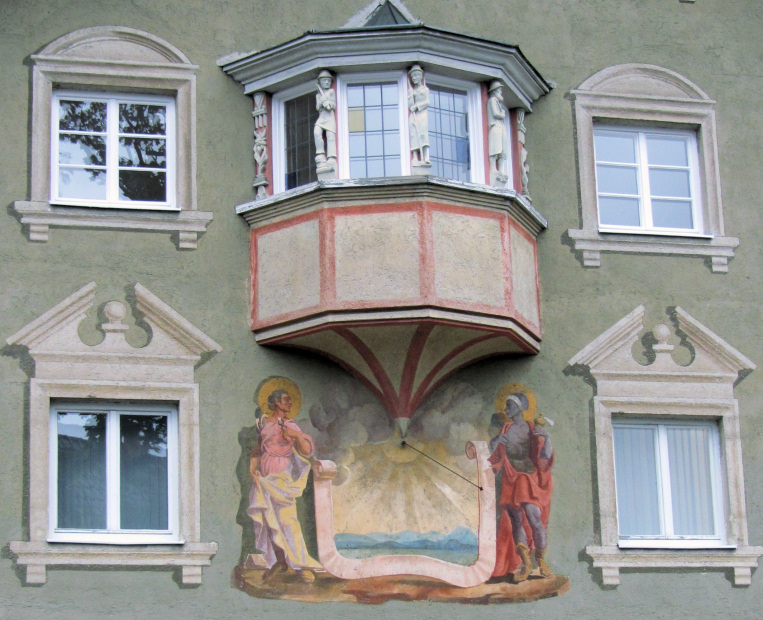 Cynical tourists visiting Bavaria might be tempted to think that the bright murals on the sides of houses there have been painted for their benefit. This isn't true. The tradition of Lüftlmalerei, or Bavarian mural painting, has flourished since at least the eighteenth century. It's tempting to misread the German word "Lüftlmalerei" into meaning "air painting" because they often do fool the eye and make solid walls appear to melt away into scenery. But the term apparently comes from the nickname of the style's most famous painter, Franz Seraph Zwinck, who lived in Oberammergau in the late 1700's.
Most of the Lüftlmalerei murals depict religious subjects, as in the photograph above, where St. Apollonia and St. Mauritius stand on either side of a sundial. How can I tell who they are? St. Apollonia's teeth were knocked out before her martyrdom, so she's holding up a tooth. And St. Mauritius (also known as St. Moritz or St. Maurice) was the Egyptian commander of a Roman legion who ended up being martyred in Germany. He's one of the few African saints venerated in medieval Europe.
Lüftlmalerei paintings depict other subjects, too. A large mural we saw in the Ludwigstrasse depicted mountaineers placing the cross on the peak of the Alpspitze. And here's a charming mural that depicts a pensive hockey player: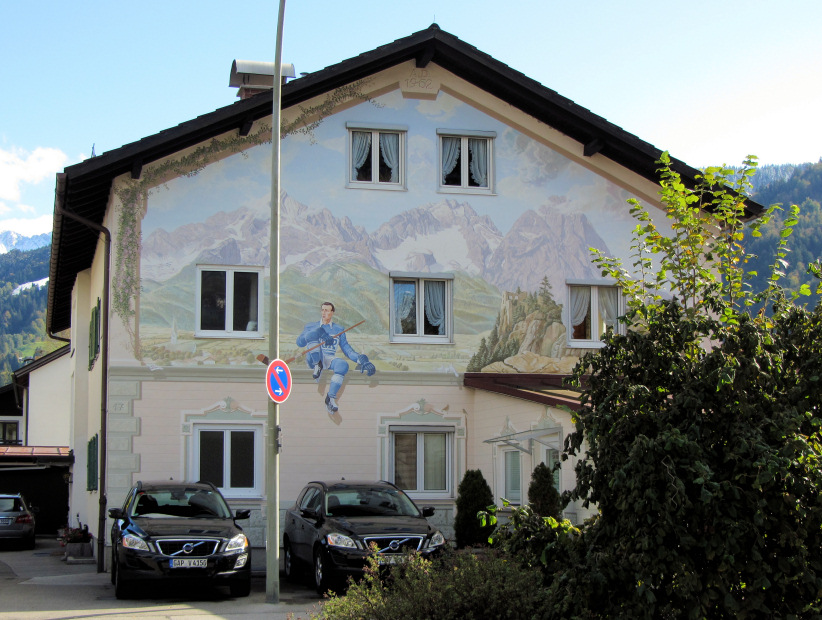 But perhaps the oddest mural we saw is on the side of the Hotel Zugspitze. This mural depicts … the Hotel Zugspitze!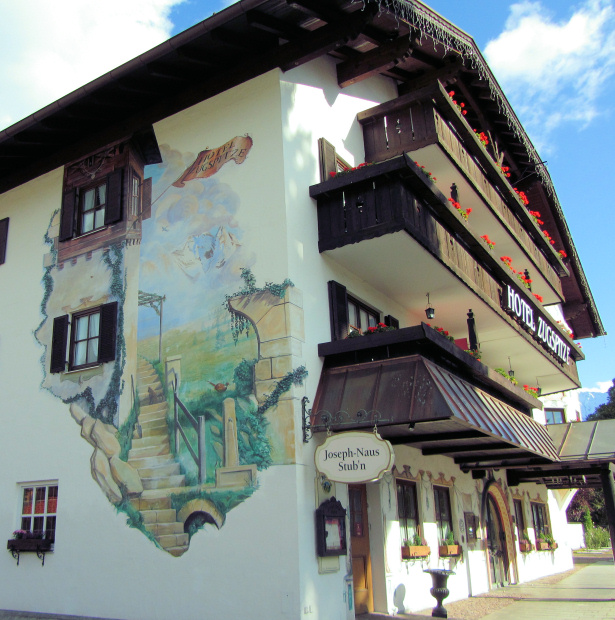 This sort of of circular reference makes my head hurt, as I mentioned in the blog post on St. Castor a few weeks ago. But maybe the hotel owners wanted to be sure their guests could enjoy the hotel's nice view of the mountains regardless of the weather.
Photos taken in October, 2011, in Garmisch-Partenkirchen, Germany. Text and photos copyright 2011 by Clare B. Dunkle.