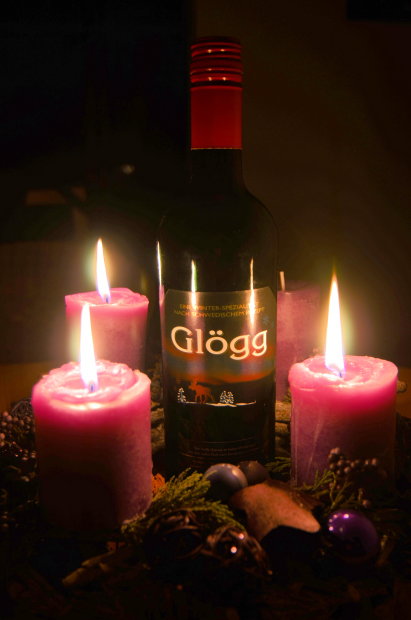 Ask someone to give you a one-word description of a German Christmas market, and that word will probably be "Glühwein." You'll find this hot spiced wine drink, pronounced "glue-vine," wherever people are outdoors in the cold. At French markets, look for vin chaud, hot wine. The bottle pictured above is the Scandinavian version.
What does Glühwein mean? That's easy. Wein is "wine," and the Glüh- part means "glowing." Drink a mugful, and you'll be glowing too.
Newcomers to Christmas markets drink the standard bottled Glühwein in the standard dark purply-brown returnable Glühwein mugs. Myself, I think that stuff is awful, so I look for booths that are opening regular bottles of wine and putting in their own spices.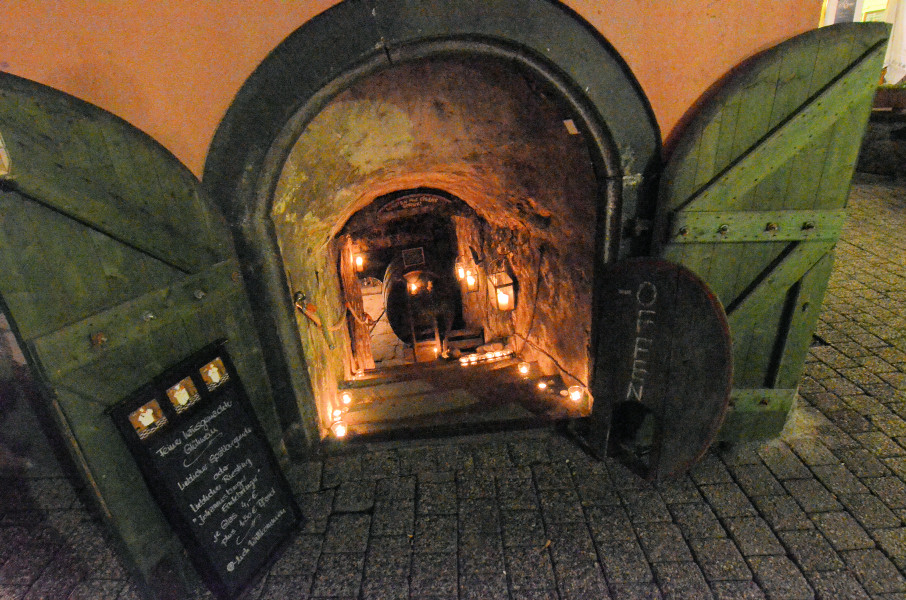 Or I look for an opportunity like this one, in old-town Limburg an der Lahn: a romantic candlelit stairway leading down into a wine cellar built in 1567, with a sign outside promising "Feine hausgemachte Glühwein." I didn't need a degree in German to realize that this meant a mug of fine house-made (homemade) Glühwein was waiting downstairs. And what a mug! The wine was steaming, the rim was dipped in sugar, and the massive wine barrels lurking in the darkness around me were older than my hometown back in Texas.
If you can't get to a Christmas market this year, here's a great Glühwein recipe you can try at home.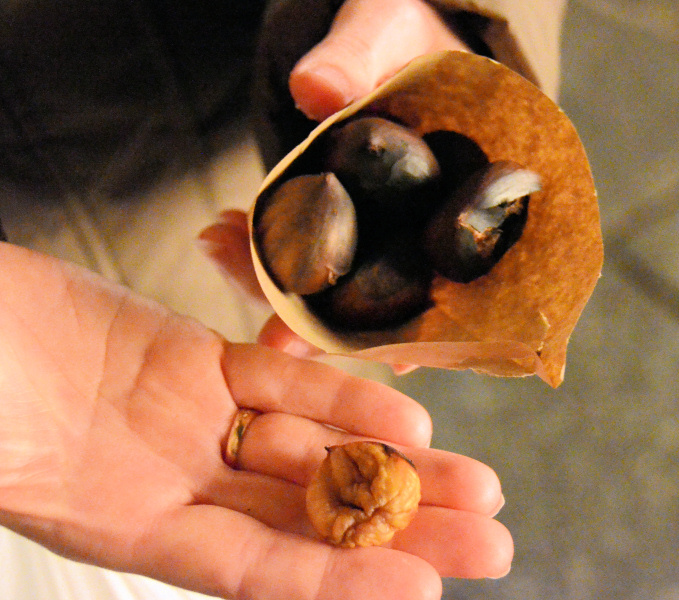 "Chestnuts roasting on an open fire." We all know the song, but how many Americans have actually eaten a chestnut? Not this one until I got to Europe. Thanks to a deadly blight, our American chestnut trees got wiped out by the billions during the early twentieth century, so we've largely missed out on this Christmastime goody. Roasted chestnuts come in an easy-to-peel shell and taste sweet and mealy, almost like smoky sweet potato.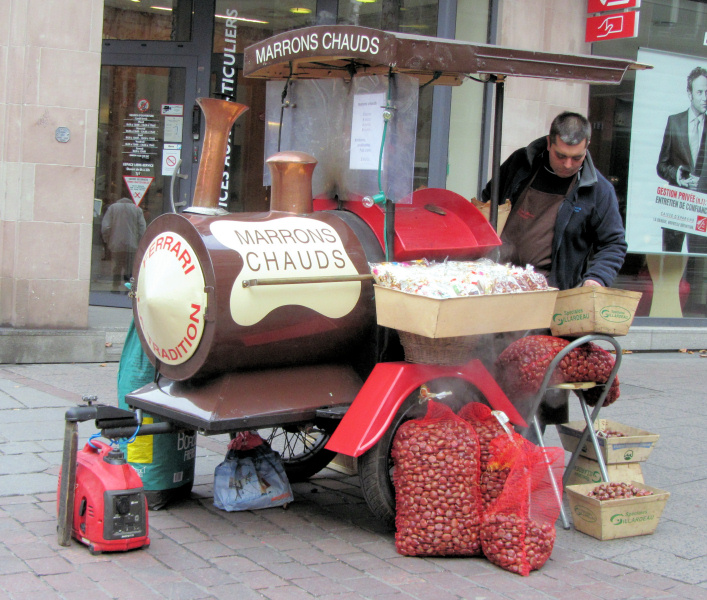 At European Christmas markets, you can buy a paper cone of hot chestnuts at little charcoal burners disguised as locomotives. Look for Marrons, Maroni, or Maronen on signs to guide you to the chestnut vendors–or just look for the bags of glossy brown nuts!
To read my latest blog posts, please click on the "Green and Pleasant Land" logo at the top of this page. Photos taken in November, 2011, in Strasbourg, France, and December, 2011, in Rodenbach and Limburg an der Lahn, Germany. Text and photos copyright 2011 by Clare B. Dunkle and Joseph R. Dunkle.