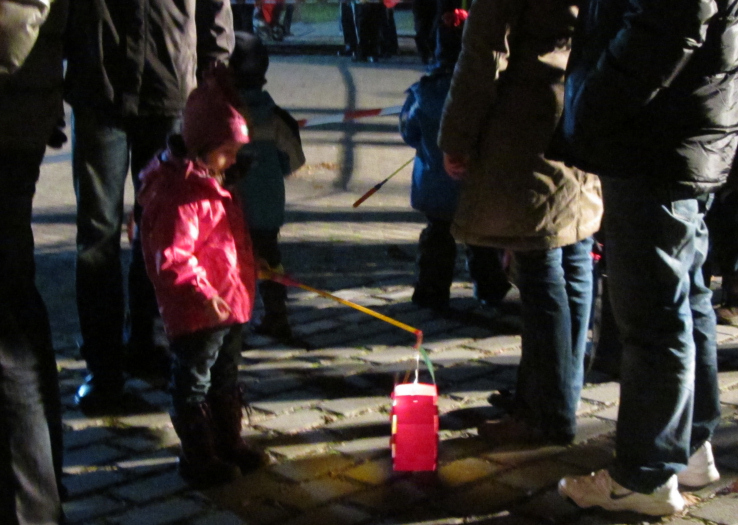 Having mourned the death of the day, Germans now start having fun with the night. They traditionally celebrate November 11th, St. Martin's Day, with a nighttime children's parade (Martinsumzug). Rodenbach has a population of only three thousand. Nevertheless, hundreds showed up for the annual event.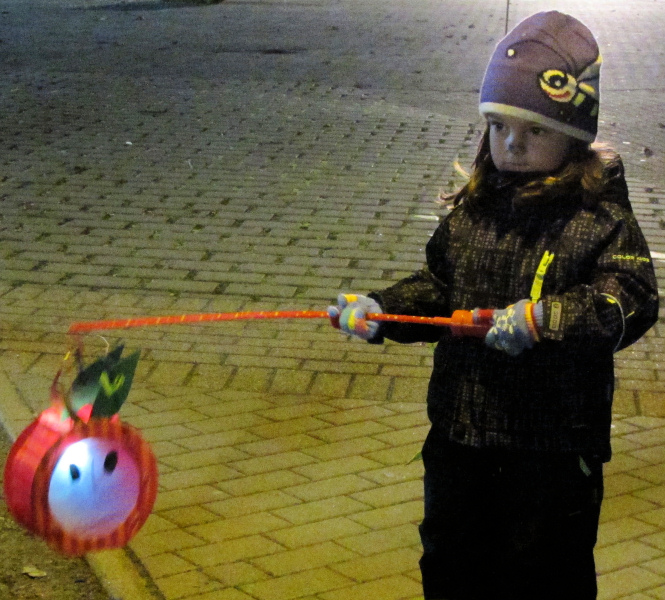 Each child had a lantern to carry in the parade, many of them made in school or preschool. The majority of the children were young enough to be completely fascinated by their lanterns. In old days, the lanterns held a candle, but now they have a little light bulb inside.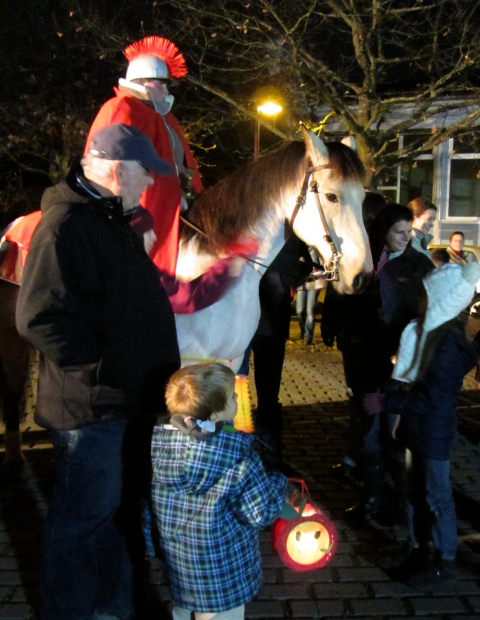 St. Martin himself was there, of course, wearing his famous red cloak, although the real star of the show was his horse, who was very patient with his admirers. Tradition has it that St. Martin had such pity on the poor that he once cut his cloak in half to share it with a shivering beggar. That night, he dreamed that he had given the cloak to Christ Himself. So, before the parade, a narrator read this story while St. Martin and a "beggar" reenacted it. Then they put his cloak back together so he could wear it in the parade. What they did before the days of Velcro, I do not know.
The parade consisted of all several hundred of us walking at little-child speed after St. Martin and the Rodenbach firemen (the Feuerwehr). It lasted a good half hour, and I was impressed at how well the children handled it. The lanterns didn't always hold up as well. Being made of paper, they sometimes came apart rather dramatically, but the moms and dads usually got them working again. Three quarters of the way through, we stopped to listen to a brass band play St. Martin's Day songs.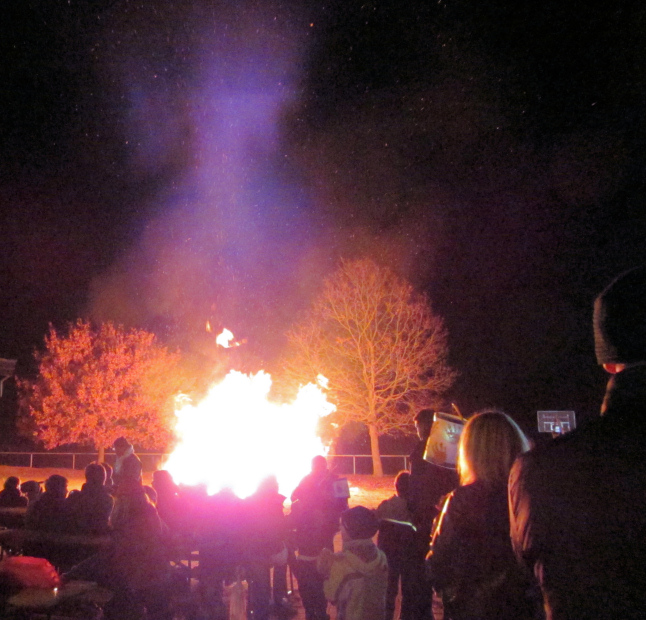 We returned to the park to discover an enormous bonfire blazing there. No wonder the firemen were invited! Glühwein and large sweet pretzels were for sale, with all proceeds benefiting an African soup kitchen. In this photo, the glow of the fire hovers like a benediction over the crowd. How wonderful to think of a life so well lived that people still help the poor in its honor 1,600 years later.
To read my latest blog posts, please click on the "Green and Pleasant Land" logo at the top of this page. Photos taken in November, 2011, at the
St. Martin's Day parade (St. Martinsumzug) in Rodenbach, Germany. Text and photos copyright 2011 by Clare B. Dunkle.