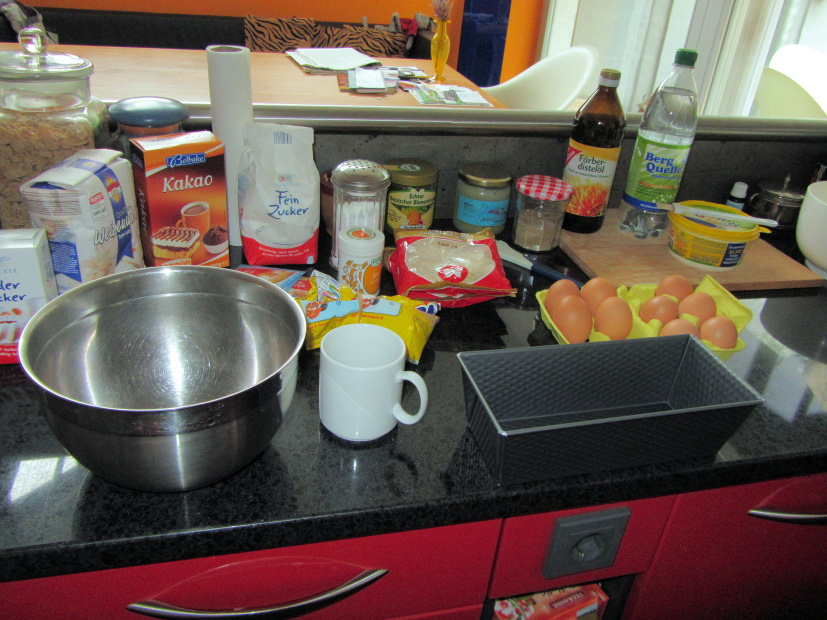 So you're new to Germany, but you want to bake a real German cake. Or maybe you've wandered into the baking aisle at Globus, and you can't figure out what half the ingredients are for. Here's an easy coffee cake recipe Heidi taught me. The cake is called Tassenkuchen because it's measured out in cups (Tassen) or Sprudelkuchen because it's made with sparkling water (Sprudel). In this part of Germany, it's a traditional weekend treat.
Everything is measured out in a cup. No, not a measuring cup–just a cup! Heidi used a big coffee mug because she was filling a bundt pan. I used the cup shown above because I was filling the pan you see. Just pick a cup and stick with it. This recipe is very forgiving, so don't obsess. And it's very adaptable. Almost every ingredient allows for substitution.
Prepare your pan with shortening and flour–or butter and fine breadcrumbs (the German way).
In a bowl, briefly whisk four small eggs for my size of pan or five large eggs for a bundt cake and
1 1/2 cups (YOUR cup!) of granulated sugar.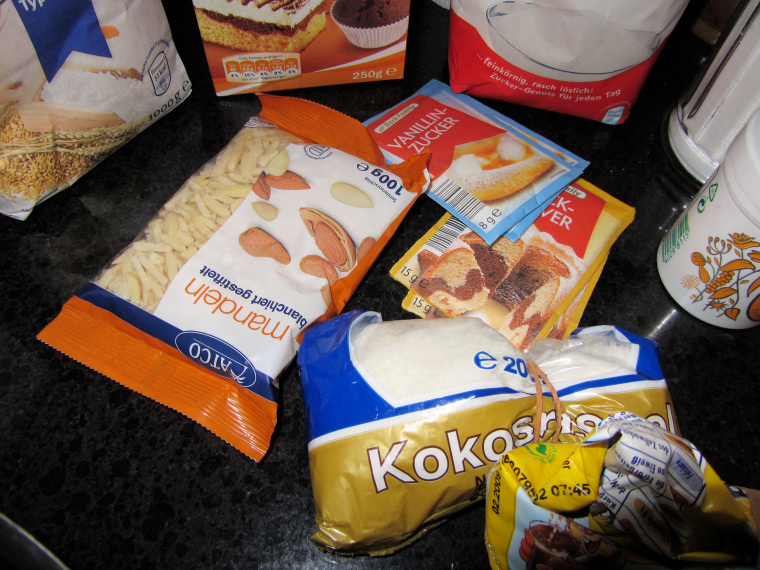 Add 1 packet of vanilla sugar (Vanillin-zucker), shown in photo, and
1 1/2 cups of nut meal. (Any mix you like of almond, hazelnut, or coconut meal–which holds moisture–or any other very finely ground nut. Include some nut pieces or coconut flakes if you like. German stores sell nut meal–it's the bag with the white M in my photos.)
Add 1 cup cocoa (we used a combination of baking cocoa and hot cocoa instant mix),
Mix with electric beater.
Then add 2 cups flour,
1 packet of baking powder (Backpulver), shown in photo,
1 cup vegetable oil (or softened butter, or a combination),
and 1 cup sparkling water (mineral water).
Mix again to blend.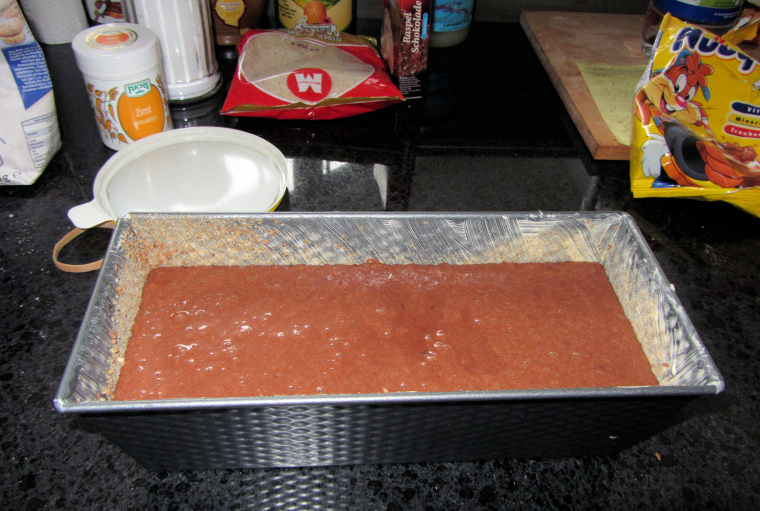 Pour into your prepared pan, not more than 2/3 full. Bake at 160 degrees Celsius with Umluft (fan symbol on your German oven) or 170 degrees Celsius regular heat (top and bottom lines) for an hour, more or less, depending on your pan. Test frequently with toothpick or knife. Cool in pan for ten minutes, remove, and sprinkle with powdered sugar.
Done!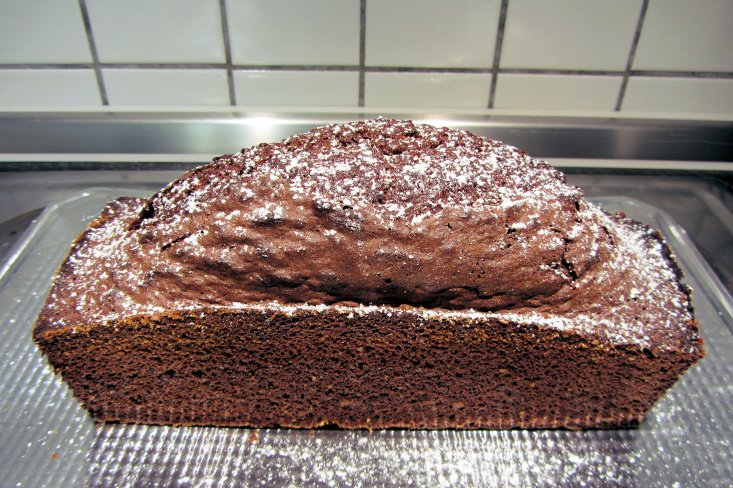 To read my latest blog posts, please click on the "Green and Pleasant Land" logo at the top of this page. Photos taken in November, 2011, in Rodenbach, Germany. Text and photos copyright 2011 by Clare B. Dunkle.