Books by Clare B. Dunkle
Request a bookplate signed by the author
If you are unable to get to a book signing, you can still have my signature in your copies of my books. My bookplate looks like this, and I sign each one: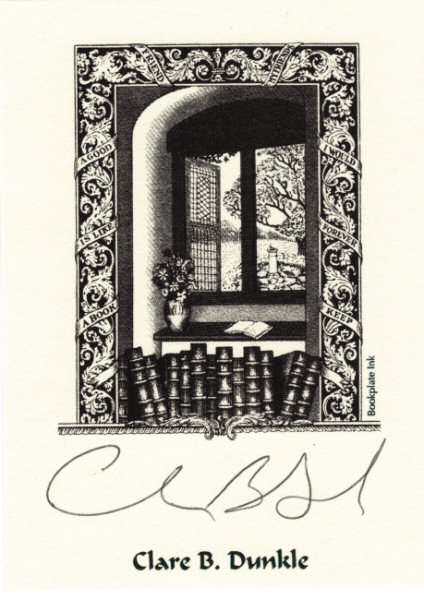 To request a bookplate, please send a stamped self-addressed envelope to me at
(This is a United States address.)
On the outside of the envelope, please indicate the number of bookplates you would like me to send. If there's no number, I'll assume you want one bookplate.
This bookplate pleases me very much because it is a design of bookplate I admired when I was a child. I remember looking through the sets of bookplates available at our local university bookstore, debating the merits of the different designs. All of my mother's friends, who were professors at the university, had their own style of bookplate in all the books in their libraries. Bookplates are an elegant, wonderful thing, a fitting accessory for a favorite volume, and those old styles had real dignity. I was very happy to learn that BookplateInk.com is making those classic bookplate styles available again, and they were good enough to modify this design for me.